Hello, hello! In fresh off the salon chair's news, I had a haircut! Difference is: I feel really good about it. I usually give it a few days of "growing in" before I feel at ease with it. I had the idea to trim the sides/back down to accommodate my recent fancy of displaying my forehead. Aka, I've been experimenting with waxinnn' my hair up into a gasp, dare I say the words, faux-hawk. Hahaha a defensive little joke I say when people invasive-ly ask(!): why is your hair all up in spikes? I just turn around and say "why
ba?!
My forehead deserves its own Renaissance!" HAHAHA I hope you don't read this and proceed to tell me it doesn't suit me, IRL. I don't think my fragile ego will be able to take that... Be warned! Moving on, hahaha.
It's been a while since I last updated! Let's bring ourselves up to speed, for you dear readers (all 2 and a half of you) and for future me, 2022.
I'm keeping up okay with what's been happening in my life these days. Life, meaning, my job as a Brand/Design Assistant for
rajolaurel.com
. I feel like I've got a solid handle on everything right now. I recently discovered that being a designer may not be for me after all. And I'm not fazed by that fact at all. I still can't tell you what it is. But what I do know is that I want to be in fashion; be it fashion marketing, editing, creative directing, merchandising or whatever I find myself doing.
I like where I am right now. I like the things that I'm doing. I am learning everything there is to learn, and frankly, I'm just taking it day by day. The experiences I've had so far (more on this later!) are slowly creeping up on me as things that I am extremely lucky to have had a hand in. Who else can say they developed a mass-market clothing collaboration? I am so grateful for the opportunity and I am living for what's coming up next. Day by day, we go.
Things could go better, more or less, but otherwise I'm content. Professionally speaking, I'm handling more and more each day. I guess it comes with experience and the trust of my superiors. The good thing is, it's not the stifling "I want to crawl under my desk" kind of load. I'm not very stressed. Frankly, I don't get very stressed at all. I get
angry
sometimes at certain injustices but those things really can't be helped. I'm only a year into this job and the challenges just keep on coming, I just go out and meet them as best as I can. 100%. So far, I haven't disappointed myself yet (the biggest critic) and hopefully, I won't allow myself the misfortune of disappointing the people I work with.
Trabaho lang talaga!
I don't think I have the time to deal with your neuroses, so back off. No tea no shade, I just want to get on with it. On to more tangible things: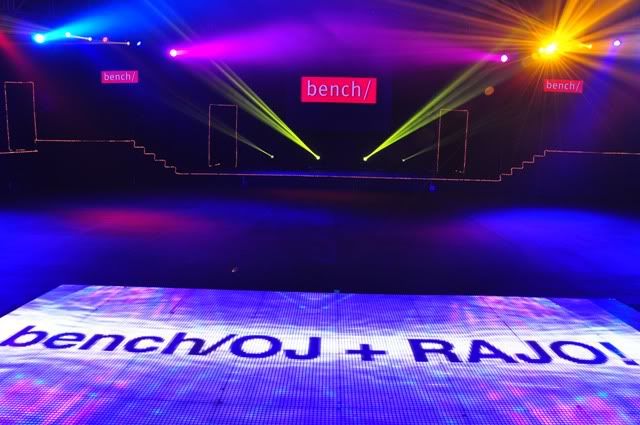 We had our show last May! The Bench OJ + Rajo! Denim and Perfume collaboration! It was a massive, massive show held on the last day of Philippine fashion week!
It was quite the experience. I think the number of talents (we had to dress, at least) was something short of a hundred! Backstage was quite the clusterfuck, thank God there was only one look each for everyone.
Enchong Dee plus the other celebrities. Boy can he dance, I was so surprised! He brought out moves that never saw the light of day during rehearsal.
Slick moves, all in our Bench OJ! + Rajo denim! Styled with a lot of pieces from House of Laurel. RajoMan reprezint, y'all!
Mah gurlll (well, okay I barely spoke two words to her) Sarah Lahbati serving Park Avenue realness hahaha.
My personal highlight of that night! The G-Force Angels pulling out some Kazaky!
The model walk off! Sweet versus salty hahaha.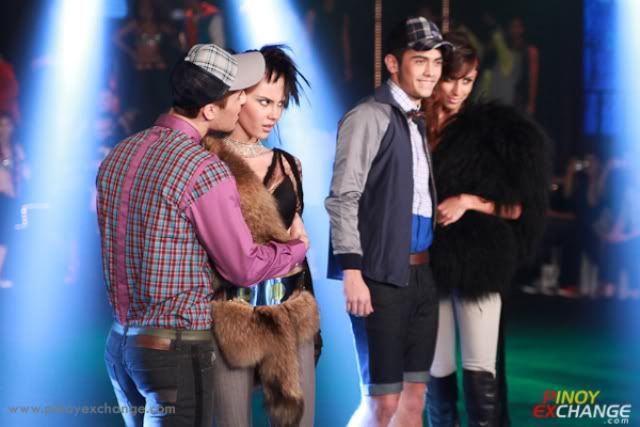 Preppy boys moving in on our glamazons.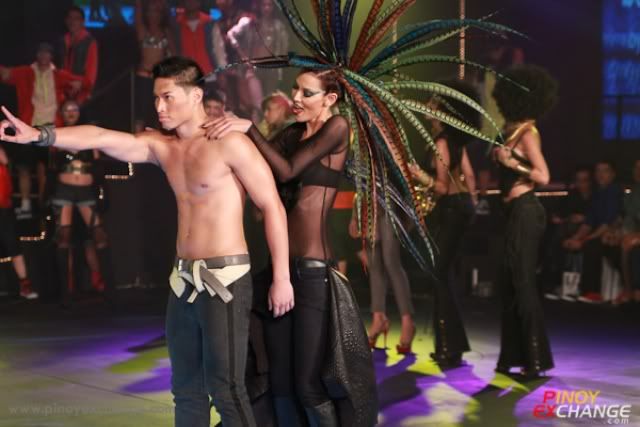 Love the headpiece on Joey Mead!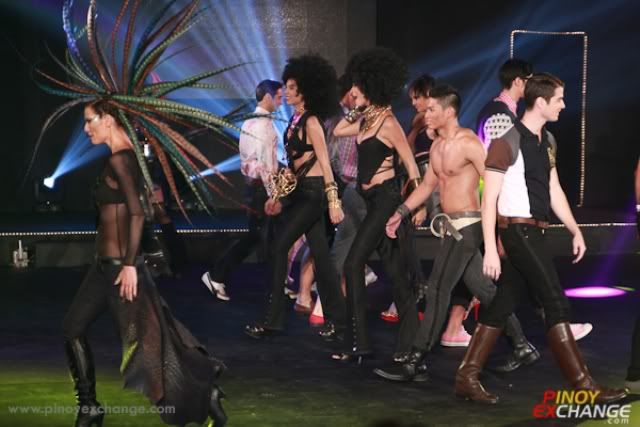 The final crush!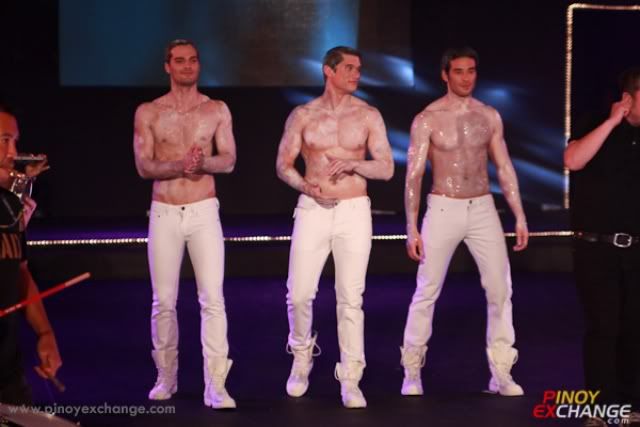 The perfume models! Cough.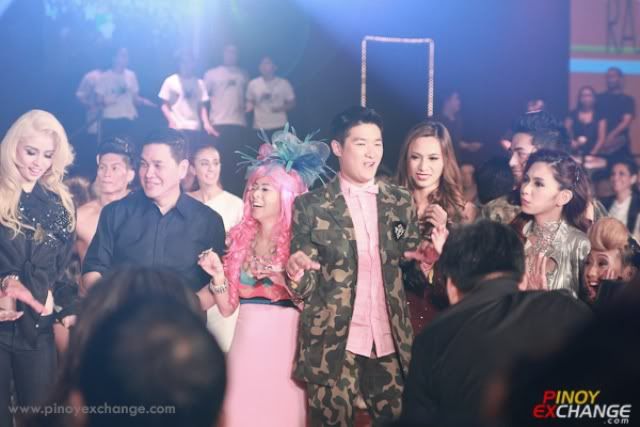 The Rajo Uno, Rajo Dos dance-off!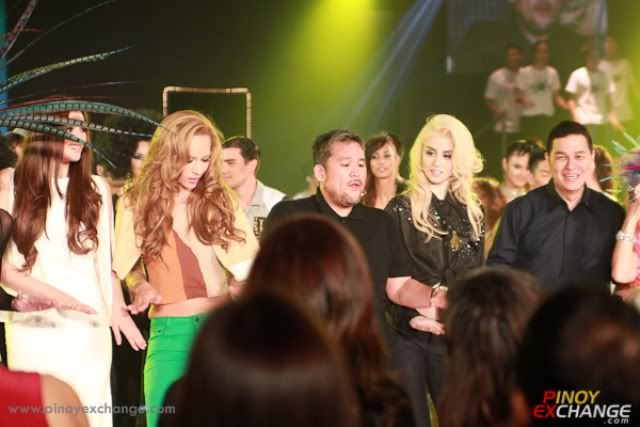 Rajo + the ANTM Girls in House of Laurel! Allison and Dominique! Shot next to Ben Chan and Georgina Wilson!
It was quite the show, definitely something different from the rest of the shows during Philippine Fashion Week. I was so impressed by how Saga Events (the company who staged it, led by my favorite RajoMan client Robby Carmona) stayed so true to Rajo's vision. I know understand why he loves working with him! They are pros! Imagine we had 6 celebrities, two-full on dance groups (All-Stars and G-Force), 20 models and two cheer dance groups. That's a heck of a lot of styling (pre-styling, sourcing and documenting to boot). We went with some losses but everything went without a hitch! Pretty proud of being a part of something in this magnitude.
I've been working with my boss on this project from the late part of 2011. From drawing up the mood boards, fabric inspirations, packaging details, tech sketches of the jeans themselves up until the finalized prototyping. It felt so surreal to walk into the Bench store (available right now! Jeans at 999 and the perfume at 400!) and to see the final product being sold. From form to mother-fuqin function y'all. I'm ecstatic. First stop Bench, next top H&M. KIDDING!
Well yeah, so much for that. For the most part, I am grateful that everything went according to plan and I can't wait to work on what's next. Right now, we're waiting on the final photos for our Transition 2012 collection. I'll talk about that as soon as I get the photos! The launch is already on the 16th! Apart from that, I know we've got at least three more big events lined up this year. I'll let you guys know.
On the fitness front! Between the last 8 weeks, I've somehow managed to lose something south of 10lbs. I kid you not. I've been keeping up with my workouts and my diet has been petering on normalcy for most of my days. The main difference is, as I mentioned last time, is that I've completely quit all liquid calories. AND also for the small fact that I am following the IF/Leangains clock of eating. Meaning I maintain a fasted state of 16 hours and keep all my meals with the window of 1pm to 9pm. I can definitely say it's working for me. I'm on a new 6 week challenge now and the goal is to lose another 5-10lbs. I've already lost 2lbs from the past two weeks so I'm hoping to keep this trend up. Wish me luck!
I guess that's it! Preview Ball this weekend! I think we're wearing the new collection so that should be easy and fun. The weekend after that is our Transition 2012 launch but I'll be all the way in Guangzhou, China sourcing for our Holiday collection. Busy busy times ahead. Cheers, y'all!
PHOTO CREDITS: Bench, Sandro Paredes and PinoyExchange.com! To view the show in its entirety, which I recommend, in full-on live action:
Current Mood:
grateful
Current Music: f(x) - Electric Shock