Guess what, on the fifteenth of this month--I'm going to be six months at my current job! Wuhoo! I just can't say it enough, time flies real fast. Just six months ago, I couldn't have predicted I'd be where I am now, so it's still kind of surreal. In more ways than one, I can assure you. Looming on the not-so-distant-future is a stop to the non-regular jokes care of my crazy officemates, haha I kid.
Couple of things to discuss: our Holiday collection shoot is this Friday, the team is very busy prepping for that. From prototype fittings, to model castings; it is a lot to think about, not to mention our preparations for the actual launch on November 12. That's also considering store construction, with wall paper options and paint sampling in between. Can't say work isn't interesting, new challenges pop up each time. But more on this later.
First things first. Last weekend, I was part of the organizing committee for the White Rock Triathlon, and let me tell you--this year was very different for me and
Extribe
.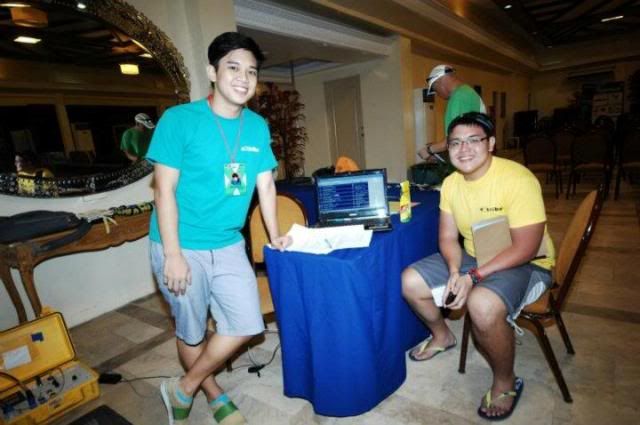 Here's a quick picture of me and Ken, the literal calm before the storm that was WRT. So much different from last year's extremely hot
extravaganza
. Full swim leg of TERROR recap, under this
I was only supposed to be a volunteer this year but things happened, so I was served up to be the swim manager of the entire triathlon. I've done this before so it wasn't really such a big deal but two days prior to the race, there were already signs of a storm coming to mess with the race. Strongs winds were coming at us during pre-race set up, this was particularly challenging for our team because the current in the open water was making it difficult for us to install the line. 4 hours prior to gun start on race day, the wind was as strong as ever and there was slight rain. It couldn't have come at a better time /sarcasm.
Fortunately, the line was successfully installed 5 minutes before the gun start and the lifeguards were deployed on their kayaks. I remember literally checking the water for white caps--small waves were pounding the shore and the wind was howling, I literally thought to myself "oh my god, is this going to happen?" and after some race reminders, a short prayer--the racers were off. The original plan was for me to be in the water, a good 15 minutes prior to the gun start but technicalities left me on the beach with the team. After the gun start, I got my kayak and got out there to give an extra pair of eyes on the participants. The tide was killing me.
The difficult thing was, the racers were wearing white swim caps--combined with the white caps of the waves, you can imagine the apprehension in my mind. I was literally praying for everyone to make it back to the shore safe. Fortunately, again, conditions calmed down a bit and the racers were able to keep close to the buoy line and maintain a decent pace swimming out.
Half way into the swim however, I was shepherding three racers back to the swim line when the current brought us all the way out to the left. From my vantage point, it could've easily been 500 meters off the mark. 5 minutes later, it was 1000 meters. I literally felt responsible for the lives of these three people in the water, I had them hang on to my kayak and one by one, they got rescued by our jetski team. The current was so strong, I couldn't even make it back to the buoy line--I ended up kayaking to the shore, maybe 1500 meters drifted away already up until the jetski came back to rescue me all together. It was crazy.
Back at the shore, I was relieved to hear that everyone was accounted for. Everyone was already on their way to their 2nd spots, I stayed behind to manage the egress of the swim set up and eventually deployed to the run course. Later that day, as the racers were finishing up with their bike leg, the storm finally hit the province (not a moment sooner, thank God). Racers were going out on their run with the rain coming down sideways, the tent I had was literally flying off--I had to clamp it down with my body weight. My dry clothes got soaked through and the wind was freezing. I was savoring the thought of a proper wind-breaker, not my measly cropped Uniqlo jacket. But thank heavens was it rain proof.
All in all, however, the race was a success. Athletes came to the finish with big smiles, having accomplished a very arduous course in the furthest of ideal conditions. There were a few minor accidents, but it comes with the territory. It was one for the books, I'd tell you that. I'm just glad nobody, and I mean nobody, drowned on my watch.
Like I said, the team is currently going through great lengths (some longer than others, let me tell you) in order to produce our Holiday 2011 look book. The theme is Russia (appropriately called the Russe collection). The process is typically this: our boss decides on a direction (taking inspiration from his travels, mostly) and then based on this, we take references from his huge library of books/magazines and online to aggregate our inspiration--be it colors, shapes, embellishments. We compile it onto a large mood board that looms over the office. Designs are drawn up and then we proceed to oversee production of the prototypes. When things are said and done (note: this happens at least half-way into the current collection and as early as six months before the next), we have a prototype fitting. Crunch time literally being this Friday, the other day we had two prototype fittings. Mostly for things in fabric to be tweaked, embellished or completely overhauled. It can be quite taxing, and I'm not even the one fitting the clothes hahaha. We must've gone through over 40 pieces, split between two brands though so you get the idea.
My boss and Cara, tweaking one of our pieces for Holiday 2011. It's a metallic moment, expect lots of that.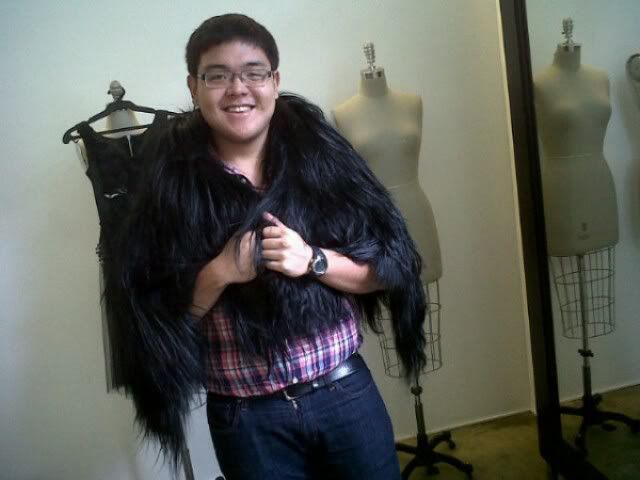 Typically in between fittings, our boss has to go out and assist fittings with his made-to-order clients, leaving us time to goof around with the fur and all. HAHAHA, okay this doesn't happen a lot but there was a window of time--and I couldn't pass up all the fur lying around.
All in all, we still have some last (and I mean last) minute adjustments for the pieces for Friday's shoot. For the menswear, I still have at least 4 jackets to realize and I'm just praying it's going to read on camera. We booked a currently hot and very talented young photographer for this season, stay tuned for that. No clear decision yet on the female model but we've already decided on the male model.
Based on the go-see (and okay, the actual set card) I was super wishing for the first model (namely Robson, here is his
setcard
), Brazilian with a very pretty face. Cute butt too but after everything, my boss decided to go with
Gonzalo
, half-Spanish half-Taiwanese model from Madrid. Very excited to see where things go, also for the female model and the clothes. Potentially, this could turn out very interestingly. We'll see what happens.
In other news, I'm working on consulting for a school-based enterprise right now. It's actually very exciting, I'm flattered they asked me and I'm hoping I can deliver for them. Not going to reveal too many details yet because I'm not sure if it's going to pan out (pretty sure, it will) but it definitely is fashion related. Just not the first thing you'd imagine I'd be involved with.
Secondly, we had an interesting day at work last week--a local magazine dropped by to shoot our "office work wear" for a feature. Hahaha, initially I really didn't want to take part but my boss "coerced" me into joining. It wasn't so bad, it was a group shot after all so pressure was off. And we got to wear pieces from the office so it was fine. Dreading the day it comes out though, I hope I don't look too stupid. Wish me luck?
And I guess that's it. Pretty long entry from me this time, I guess I'm making up for all the missed couple of weeks. I'll see you guys soon! Trip to Korea is coming up next month, and whatever else. Cheers!
P.S
On a fitness note, I'm happy to report that my lifts and running stamina are on an all-time high. Haven't been this active since my college rowing days (wow, time does fly) but I can't say the same about my poundage. I'm also at my heaviest since college--can't exactly say it's fat though, I keep track of my waist using measuring tape so I'm not too worried. The scale is deceiving after all. Not to say I don't need to work on my diet though, conversely, it needs A LOT of work. Wish me luck.
Current Mood:
hopeful
Current Music: Brown Eyed Girls - Sixth Sense