Hey guys! It's been a whirlwind couple of weeks, haven't been updating as much as I used to but at least we're still here right. Right. I finally got to watch Varekai in Manila, more thoughts on this later but let's just say: IT WAS EPIC.
Our Transition 2011 collection is shaping up already, good thing too because the launch is already this Saturday, July 9 at the House of Laurel. Come if you can make it, check out the stuff--I had a bigger hand in producing and conceptualizing the Men's and Children's line, it's going to be directional and super chic. The price points are 4k+ for a nice shirt for the guys (not bad, hey!) and 3k below for the party wear for the kids. I swear, I can't wait to show you guys the images. Come down to the store during the launch!
Speaking of images, we had a look book shoot the other day with Marita Ganse and Nathanael Keifer as our models (super professional! Pleasure working with them) and Jujiin of
Boy Who Cried Chos
fame as our photographer. He's super sweet in person, and we're both 2NE1 fans hahaha. Right smack in the middle of the shoot, we watched 2NE1's latest
video
. Check it out, they're reppin' the latest from Gareth Pugh for some pretty sick stagewear at the end. Last time it was Balmain, this time Gareth Pugh. Amazing, fashion transcends all cultures. At any rate, we also spent the past two days constructing the store--there's a huge mural of a man's face on one of our walls. We painted everything white and we're whipping up some coal hanger covers, the effect is absolutely Margielic. Can't wait to see everything come together. In other news: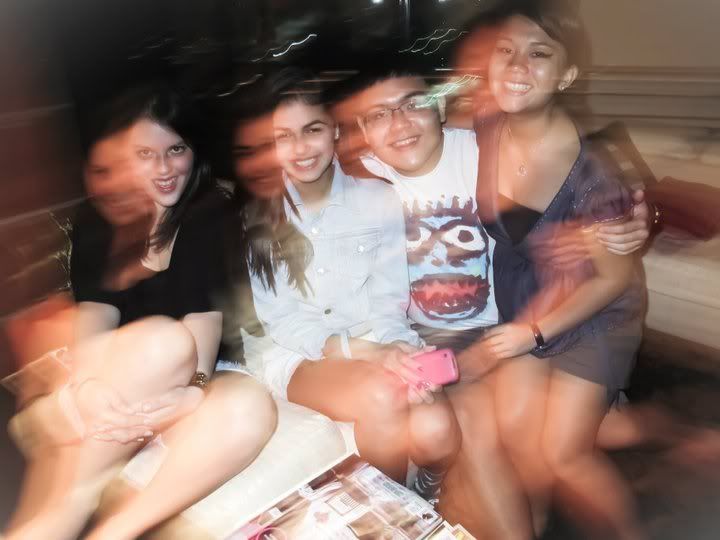 Janine(!) and her non-showbiz friends.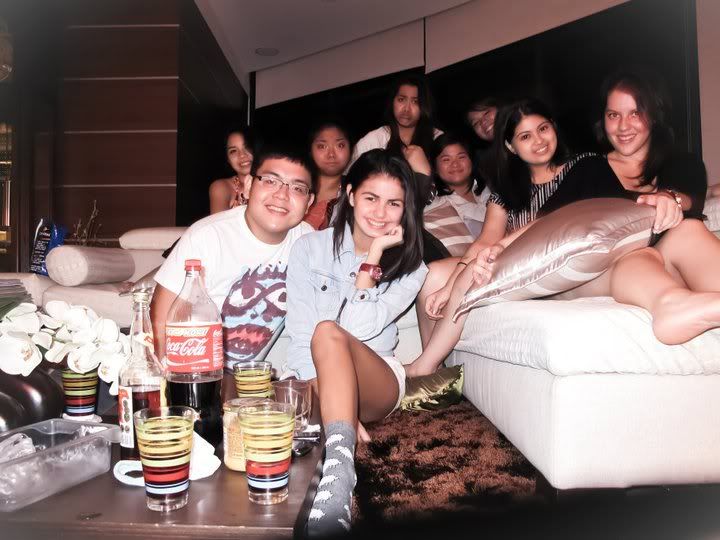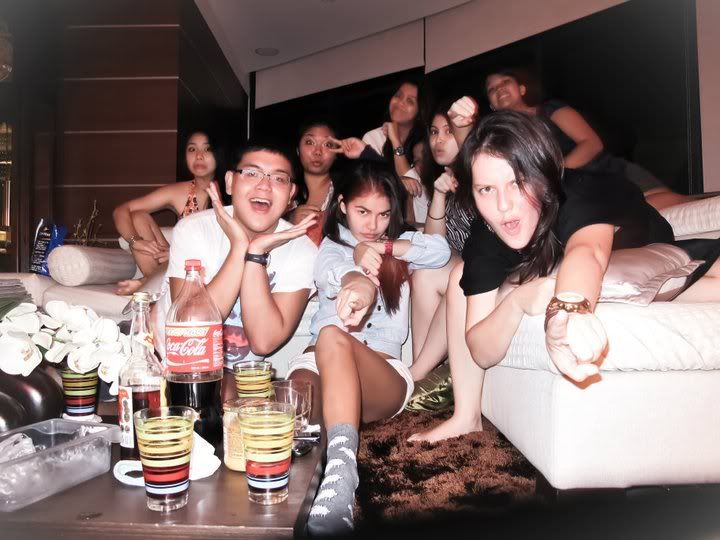 The other week, we had a slumber party(!) at Kat's condo in Ortigas celebrating her return from the 6-month study program in Germany! It was hella fun, right in the middle of a work week--watch out for my friend Janine who just debuted in Party Pilipinas last Sunday! WUHOO
#1
FAN RIGHT HERE! It's funny because, as of these pictures, I literally remember asking her "Janine, when are you going to be on TV?" and she answered her usual "Oh, I don't know" and then flash forward a week later, she was on Party Pilipinas! Nobody knew a thing! Now she's a Sunday regular (lol caught her today) so tune in. She's my real TEENAGE DREAM.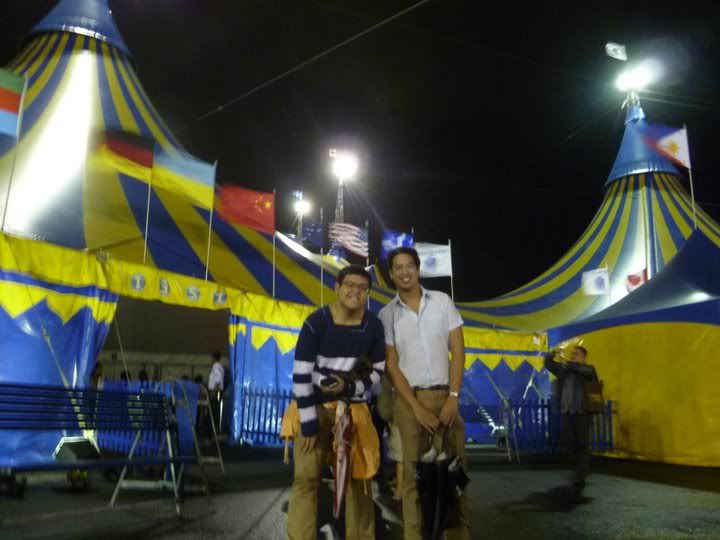 Me and H<
>wie (HAHA!) outside the Grand Chapiteau in Manila! Glen taking the picture.

So moving on to Varekai, just a few thoughts. Our performance schedule was June 28, a Thursday (and also it was the height of tropical storm Falcon). We missed the opening (Charivari) and aerial net of Mark Halasi, we got to the theater and it was already the intro to Water Meteors. I felt pretty bummed about that, I was really looking forward to the opening with Craig and Isa but alas, what can you do. Also during my show (public premiere), Icarian games did not perform but they were in costume.

A few notes: the Water Meteors kids were really green--they kept dropping the ball and they really looked forlorn throughout the whole number. Like their smiles were on cue for the most part, but still was pretty entertaining. No Icarian games, bummer. Solo on crutches was pretty emotional in person, it hits so much harder than on the DVD. Triple Trapeze was pretty much unchanged from the DVD (including the music), and I couldn't help but think that Stella was one of them. I checked Cirque Tribune database and it says there that she is still with the show, who knows. Body skating was pretty lackluster for me, but it went by without a hitch. The clowns were HILARIOUS--I think the girl is the same from the DVD. Aerial hoop was interesting to see in person, but comparing it to Quidam or to Kooza, it really seemed low-voltage to me.

As for Handbalancing on Canes--FUH-LAWLESS. Irina Naumenko is a master, her flexibility and grace were really amazing to behold in person (let alone in the first row). And then Aerial Straps, ooh boy--one of my favorite acts from the Varekai DVD. It pretty much returned back to the original choreography of the Atherons, none of the new tricks they developed 8 years into the show I think. It literally was the same, it was beautiful. I have to say though, the fact now that they aren't twins--it really HEAVILY emphasizes the homoerotic undertones of the act. Simply beautiful, the guys were so built. One of them in particular, I think it was Igor--he really dwarfed his partner with his size. Seriously considering spending more money just to see the show again.

Russian Swings was incredible, to say the least. No fumbles, a real crowd pleaser of an act. And the singing--no complaints here, Craig and Isa were really on point. Can't believe they're still here, 9 years since creation. Overall it was a beautiful show! I just felt bad for the artists in terms of the weather they're experiencing in this country. It was flooded in the streets, also the location of the Big Top is less than ideal. It's an old and ugly (UGLY) part of Manila. I sure hope they don't think this country is a cesspool, why couldn't they have staged it in The Fort? I'm sure ticket sales would've been better.

Oh and coming into this whole thing, I had doubts of whether Cirque would do well here or not. But I'm pleasantly surprised to hear that a lot of people have been going, certainly not full-houses but a good share of my friends have seen it and loved it. I recommend it to everyone, go see Varekai. It's a world-class production and if it goes well, Cirque du Soleil might just bring everybody else here during their Asian Tours. Not skip the Philippines like the past 15 years. Anyway there, my 50 cents worth.

Whew. That's all for now! It's going to be a busy week, working hard helping Rajo with his numerous collaborations, launch of the new collection this Saturday and possibly attending the Preview Ball this Friday (if Rajo requires us hahaha). We'll see, hope I can find something to wear if ever. Cheers y'all.
Current Mood:
chipper
Current Music: 2NE1 - I am the best