Right. I just got back from my trip to Malaysia with Alcine's family. It was fun, did a hell of a lot of shopping but more on that later when I get to steal pictures. Just a simple update of weeks past.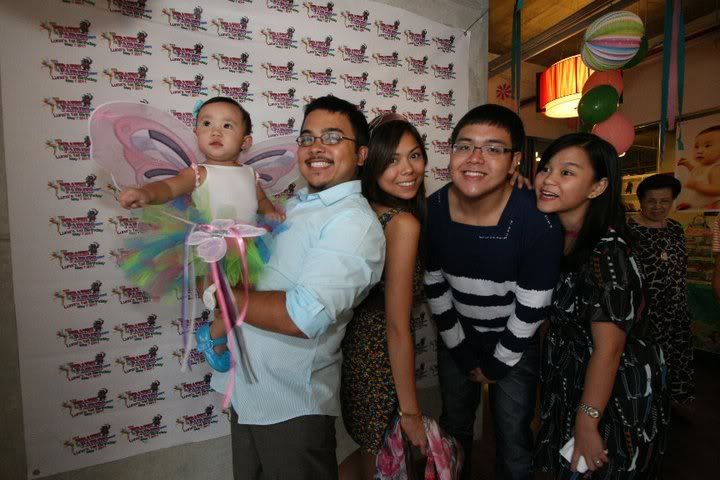 Celebrated Luna's 1st birthday!
Me and Miguel in Tali.
The day my Mom went back to the states! Sniff, hope I get to visit her at the end of this year.
So anyway, I got to fix my schedule that I was alluding to in the last entry! I get to be home a little before 7pm which gives me more than enough time to hit the gym. Only problem is I've been away the past couple of days so I haven't really hit my stride yet. Seriously, I need to get my ass in gear. If I just had a 5 peso coin for every time I've lamented about this, I'd be 1000 pesos richer.
As for the job, I'm loving it so far. I'm excited to see the Transition 2011 collection pan-out. Can't wait to see my little contributions come to fruition here and there. It isn't without difficulty however, rest assured but I'm confident that we will get this show on the road.
In a nutshell, I'm in a very good place right now. Just imagine, a little over a few months ago, I was just dreaming to myself that I can work in the fashion industry. Be it designer, pattern-maker, studio assistant or brand assistant--whatever. Lesson to be learned here is this: dreams are what you make it. I essentially quit my job, packed-up my stuff to learn pattern drafting with my Grandmother, applied to a few jobs and eventually got lucky. Twice!
I'm super very thankful for all the opportunities (given and not given, wink) but I still have a long way to go. At this very moment, I don't think I have the creativity to become a designer. Someday, maybe--but right now I just don't have the vision for it. I'm perfectly content to map out the next few years (or more) with my current company--I have so much more to learn and to develop in myself, I can feel it. I just need to take the time and grasp everything before it's too late. This is coming from reading Alexander Mcqueen's Savage Beauty book; it documents the late designer's work in the MET Costume Institute in New York. His genius is undeniable, and I got inspired by his path to become who he eventually became. Poignant, the stuff of legend.
At any rate, I realize I'm not much of a writer when so much ideas are in my head and I can't really articulate them here all that well. The gist of it is: I feel the need to grow, the desire to develop my skills, to expand my references, to sublimate some kind of point of view--I'm just not quite sure where I should begin.
Cheers.
Current Mood:
thoughtful
Current Music: Bond - Strange paradise